News
Posted by Kim Aubuchon on
Terry Warburton had a great first leg of his Okeechobee trip, and is taking a break to attend the International Trombone Festival at the University of Central Arkansas this week.  While there's too many stories about the trip to tell here, we know many of you would be interested to know that no matter where he is, Terry is like a magnet for musicians! Terry met trumpeter Scott Perry in La Belle, Florida when he heard someone blowing a trombone early one morning! He thought, "that doesn't sound like a boat horn... it sounds almost like a trombone..."  Sure enough,...
Posted by Kim Aubuchon on
Many things have changed for Warburton Music Products over the last 48 years, but one of the biggest unforeseen changes was our factory fire on June 29, 2005. In the picture above, Terry Warburton is amongst the remains of his home and factory as we looked for anything that was salvageable.  Terry rebuilt his factory with help from so many of you: his friends and customers. Through the hard work and generosity of so many, Warburton Music Products started over and moved forward. Terry Warburton has never been a man to give up. Since then, we've had many more changes and...
Posted by Kim Aubuchon on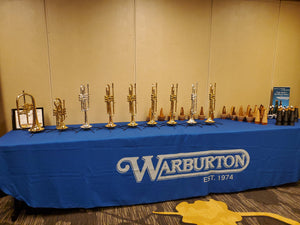 We had a wonderful time reconnecting with all of our friends - old and new - at the 46th annual International Trumpet Guild Conference in San Antonio, Texas. We were thrilled that we could all be back together in-person to share stories and laughs, and of course, all of our products. We're already looking forward to the next ITG in Minneapolis in 2023!
Posted by Kim Aubuchon on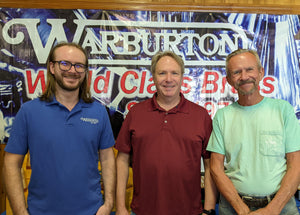 We are happy to announce that we are working closely with Steve Shires to make parts for his new line of trombones from Stephens Custom Horns! Steve has been here at the shop all week to work with Terry and Johan to dial in the final design programs and make parts to take back to Vermont."Terry and I have been friends forever. When I decided to start making trombones again, under the Stephens name, I decided not to buy the CNC equipment I had before, but instead to have my small parts machined by a really great machinist. Terry has...
Posted by Jerry Jackson on
We are excited to announce our new web site and online store! Previously we had a hybrid solution of a web site separate from the store site.