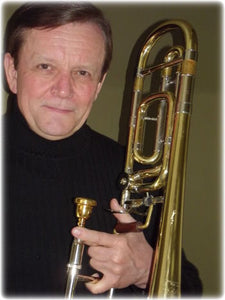 James Warburton - Trombone
1 1/4 JW
Inner Diameter: 1.09"
Outer Diameter: 1.61"
Cup: Deep - with a modified throat entrance.
Bore: .295"

1 1/2 JW
I.D.: 1.08"
O.D.: 1.6"
Cup: Deep - with a modified throat entrance.
Bore: .295"

"I have always been a great admirer of George Robert's sound on the bass trombone. So when I started playing I used a Bach 1½ G and did my best to emulate his sound. Then, when I switched to a Warburton mouthpiece I was looking for the same thing (only better) I found that the stock Warburton 1¼ G played much better than my old Bach and so I worked with it for awhile but ultimately decided that I wanted even more from a mouthpiece so I worked with my brother Terry to tweak the design of the 1¼G by opening up the throat and modifying the cup slightly.

The results were immediate and outstanding. The lower register speaks easily with a full, focused sound (which, by the way records beautifully!), and the middle and upper register absolutely sing. The high notes slots better than any bass trombone mouthpiece I have ever played (which, being a little obsessive, includes about a dozen of the top mouthpiece brands on the market). The overall tone and focus of this mouthpiece is even from bottom to top with an almost sparkling core to the sound.

Every, and I mean EVERY, bass trombone player that has tried one has loved it. I am talking symphony players, commercial players, Big Band players…everyone. If you are looking for an outstanding bass trombone mouthpiece, you owe it to yourself to try my signature model 1 1/4 JW."
- James Warburton