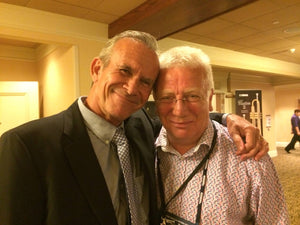 Philip Biggs - Horn
Philip Biggs Horn Mouthpiece
ID: 0.68" (17.27mm)
OD: 0.99" 25.146
Cup: Medium Bowl
Bore: 15

Note: The Biggs Mouthpiece comes in a standard shank. If you need a special shank, please contact: sales@warburton-usa.com

Featuring a medium-style cup, this mouthpiece is a jack of all trades. With a seemingly effortless high-range and a solid low range, the mouthpiece is exceptionally well-balanced. The Biggs model gives a very warm, but projecting sound, allowing it to be used in multitudes of different styles and settings. Ideal for players of all skill levels.

As this mouthpiece is inspired by a London design, it only seemed appropriate to name this new Horn mouthpiece the "Biggs" model in tribute to our dear friend Philip Biggs. Though Philip was not a horn player - he had a 30 year career as a cornetist - he was a tremendous promoter, friend, and advocate for the community of brass players and brass music around the world.

Philip's wife Ruth and daughter Alice have graciously given us permission to use his name, and a portion of the proceeds from the sale of this mouthpiece will go to the National Youth Brass Band of Great Britain. From Ruth, "This wonderful organisation meant a great deal to Philip and as its Administrator he worked tirelessly to improve and promote [the] band for over twenty years."

Donate to the National Youth Brass Band of Great Britain

A Note from Terry: "Philip's friendship meant a lot to me. His contribution to the Brass World was appreciated by players around the world, and his presence will be missed."