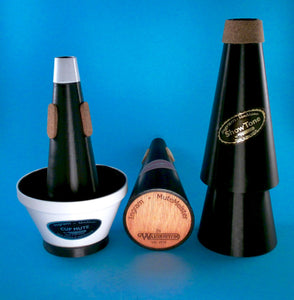 Ingram - MuteMeister Mutes
The Ingram - MuteMeister Mutes by Warburton
Ronald Romm talks about the new Ingram - MuteMeister Cup Mute

The Cup Mute
The Ingram - MuteMeister Cup Mute brings together the best acoustic qualities from both the 1930s Ray Robinson cup mute and the 1940s Shastock Tonalcolor cup mute. Its sound is pleasing yet present in both live performance and studio work. The cup is lined with a solid piece of felt, as was done with the original Ray Robinson mute. However, there are no rivets used in the manufacture of the cone or cup, which enhances resonance. The cup also utilizes a wooden resonator, and after extensive testing, we settled upon the most responsive thickness.
The Showtone
The Ingram - MuteMeister "ShowTone" mute is a significant improvement over the classic Shastock Solotone mute in both construction and resonance. This mute is highly sought after by trumpet players who do a great deal of work in the pit orchestras of Broadway and West End Show productions. Resonance is optimized by maintaining the same material throughout its construction. Unlike the original Solotone, the new ShowTone does not incorporate brass ferrules on each end. This adds to its resonance and increases its range of overtones. Intonation, slotting and tonal qualities of the ShowTone far exceeding the original 1920s version.
The Straight Mute
The MuteMeister "Straight" mute is a great choice when non-metal straight mutes are preferred. Metal straight mutes for Bb trumpet did not become commonplace until the 1960's. Nineteenth century and early twentieth century composers wrote with wooden and/or fibre straight mutes in mind. This mute offers stable slotting, brilliant resonance, and has a wide spectrum of overtones.
The Jazz At Lincoln Center Orchestra's trumpet section in concert with their Ingram - Mute Meister cup mutes.