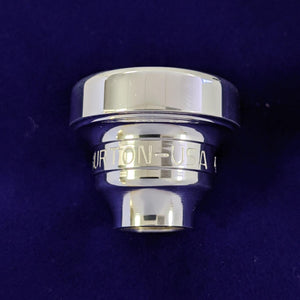 Gerardo Rodriguez - Trumpet
Gerardo E. Rodriguez - Trumpet of Jesus
Inner Diameter: .643"
Outer Diameter: 1.070"
Cup: extra shallow bowl
Bore: 27
Engraved: Trumpet of Jesus
Backbore: TJ (Sold Separately)
Gerardo E. Rodriguez's signature model mouthpiece is now in production and is geared toward high-powered, commercial style playing with a lot of sizzle.

As a first-call session musician, Gerardo has graced the recordings of such Pop luminaries as Prince Royce, Thalia, Ricardo Arjona, J Balvin and Obie Bermudez. He has also contributed to dozens of award winning records by Salsa stars Tito Nieves, Oscar D'Leon, La India, Luis Enrique, Ismael Miranda, Rey Ruiz , Jose Alberto "El Canario", Sergio George/Salsa Giants, Gente De Zona, Aymee Nuviola and many more.

He is currently on tour playing lead trumpet with superstar Marc Anthony, a position he's held for several years. Gerardo is also a noted studio engineer, regarded for his recording and mixing expertise. He is also a devout Christian, balancing a hectic touring calendar and studio schedule with his family life.