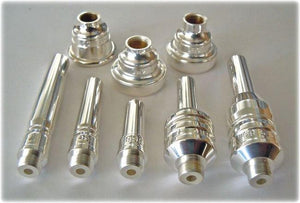 C Trumpet Backbores
After careful testing and design, we've found the optimal backbore length and dimensions to suit the tendencies of the C Trumpet. They are available in the following sizes and styles:
7, 8, 9 - Medium large sizes. The #7 provides a good balance of sound quality acceptable in the orchestra. Models #8 and #9 are very well received by the orchestra player who appreciates the increased volume of sound with less resistance.

10, 11, 12 - Very large "Symphonic" sizes. These models have very little resistance and offer the strong player the potential for the ultimate in full, rich sound.


We offer three styles of C trumpet backbores:
The STANDARD Series - Our standard series models have long established themselves as the most popular choice for nearly any playing situation.

The STAR Series - These were designed to allow each of the Standard models to be more free blowing without the necessity of reaming to a larger bore size. This is important because the quality of sound remains the same without the risk of losing focus sometimes caused by playing of too large bore size. Since these models were made available, the medium large sizes (7* to 10*) have been very well received in the orchestral trumpet community.
The X Series - This series was designed to preserve the efficiency of the Standard Series, while allowing for the more open feel of the Star Series. The X series works well for players who want that support while being able to move more air.
The Standard and Star series works well for players striving for the more brilliant contemporary C trumpet sound, while the X Series lends itself to the old-school symphonic C trumpet sound.