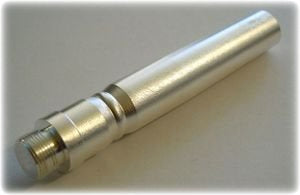 A.T.V. Shank - Trumpet/Cornet
The A.T.V. fits the Warburton backbore you may already have,
or you can order a low-cost shank made especially for use with the A.T.V.

Note that the low-cost A.T.V. shank does not have (or need) a hole bored through it. It's exactly the
same as our regular backbores, except that we reduced the cost by not finishing the interior bore.

When using your A.T.V. there is no sound or air moving through the trumpet which means you
may use a shank with or without the bored hole - they both work the same for A.T.V. use.