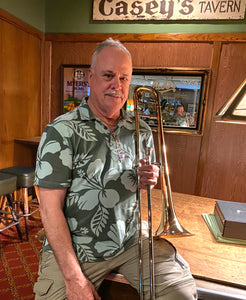 Les Benedict - Trombone
Les Benedict Model
Inner Diameter: 0.960
Outer Diameter: 1.500
Bore: 0.250
Cup: Medium Modified V
Les Benedict performed on Elvis Presley's Aloha From Hawaii, the first world-wide live television broadcast. It was also an RCA double album which went quintuple platinum, and has been released on video tape, DVD and CD. It is reportedly the most-watched TV special ever. The dress rehearsal, recorded by RCA, was released as The Alternate Aloha with crowd noise dubbed in. A new DVD release in 2013 featured previously unreleased material.
An accomplished instrumentalist who plays alto, tenor and bass trombone, Les has also played and recorded on alto flugelhorn, euphonium, tuba, contra-bass bugle, trumpet and Eb cornet. He's performed or recorded with Frank Sinatra, Quincy Jones, Sammy Davis, Jr., Bette Midler, Cy Coleman, Joe Zawinul, Clare Fischer, Kenny Burrell, Julio Iglesias, Michael Bublé, Mariah Carey and many others. He was the featured euphonium and trombone soloist with Mr. Jack Daniel's Original Silver Cornet Band for five years of national tours and a live double album recording in Nashville, and played trombone and euphonium with the Disneyland Band for 11 years.
Les played lead trombone with the Gerald Wilson Orchestra from 1995 until Gerald's death in 2015. He played on Wilson's Suite For Monterey, which was nominated for two Grammys. As the lead trombonist with Buddy Colette's big band, he played on Buddy's Grammy-nominated Live in the Nation's Capital. Les played tuba with the 50th Grammy Orchestra accompanying duets with Lang Lang and Herbie Hancock, and Andrea Bocelli and Josh Groban. He performed on the soundtracks of Ken Burns' Thomas Jefferson and Baseball soundtracks as the co-leader of the California Gold Rush Band.
He is a member of the Mark Masters Ensemble, whose most recent release is Blue Skylight on the Capri label. Other current affiliations include New Valley Symphony (principal trombone), San Fernando Valley Symphony (2nd trombone), Thousand Oaks Philharmonic (bass trombone); Steve Huffsteter Big Band, Jelly Roll Jazz Band, and Roundtop Brass (trombone); Angel City Dixieland Band (tuba), and Windy City Blues Band (trombone & tuba). He recently joined the Los Angeles Police Department Concert Band on euphonium.
B.S., Music Education, Tennessee Technological University
M.M., Trombone Performance, University of Hawaii