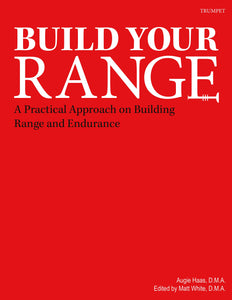 Build Your Range - Augie Haas
New York Trumpeter Augie Haas has assembled a fun and practical approach to building the upper register and increasing endurance. Includes book and downloadable play-along tracks.

Augie's book put simply, is GREAT. His ability to compose studies that genuinely help AND show what the modern day trumpet player needs to strive for in an ever increasingly competitive world is wonderful. Best of all, these studies are based on making music first. Something we forget about when "working out" various aspects of our playing. Bravo, Augie!


NICK MARCHIONE
LEAD TRUMPET, VANGUARD JAZZ ORCHESTRA