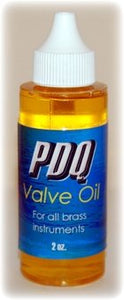 PDQ Valve Oil
Features and Benefits of PDQ Valve Oil:
Incredibly fast! We believe that PDQ has no peers in the speed category.
Lasts for days!
PDQ is real oil, made at the Warburton factory from petroleum distillates - has no perfumes, dyes, synthetics or paraffin.
Will keep your valves and casings pristine clean.
WARNING: May cause "happy fingers" (spontaneous urge to rapidly rattle valves)
 ___________________________________________________
 "Hey Terry - I just came back from a tour of the middle east. I played lead trumpet with the 571 AF BAND's Rock Band "SIDEWINDER" from St. Louis MO (Air Nat'l Guard Band).

We toured Djibouti Africa, Al Udeid Qatar, Ali Al Salem Kuwait, Balad & Bagdad Iraq and most of our gigs were outside. PDQ Valve Oil worked flawlessly.

I don't know how PDQ oil works in the cold, but it works like a Mother in temperatures ranging from 120 to 137 degrees, oh by the way, the heat index reached an amazing 160 degrees. Not to mention the occasional sand storms. No kidding, it was like performing on the surface of the Sun!

I am including a picture that we took in Bagdad at Sather AFB. Hope you enjoy!"

MSgt Jeff Strahlem
 ___________________________________________________
Hi Terry, I just want to say that I have been using the PDQ valve oil and absolutely love it. The first thing I noticed is how fast it was, but after a few days I noticed it was actually cleaning my valves! I couldn't believe it. Now that the valves are clean, they go so fast I have to retrain my fingers to catch up again. Thanks for such a great product.

Fred Cantu
 ___________________________________________________
"I just wanted to let you guys know I love the PDQ! I have a Lawler flugel with Bauerfein valves and the first valve has been a constant problem. I tried the PDQ and it is hassle free now! I am amazed. I know those are suppose to be great valves and now they are. Now it is the best flugel I have ever played! Also love the KT top on my Q backbore. You guys do a great job."
Keith Roberts, Chattanooga, TN
 ___________________________________________________

Lin Biviano
 ___________________________________________________

Tiger Okoshi