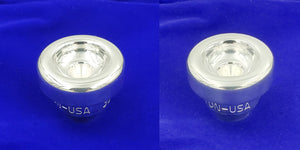 Double Cups
New Double Cup Trumpet Tops!
These cups feature a shallower initial cup and a more open throat to allow for greater airflow and volume without sacrificing the upper range. Popular for trumpeters playing in the Mariachi style, these pieces can also be used for any player that wants a loud, robust sound. 
Available in two depths: "Double Cup Shallow" and "Double Cup"