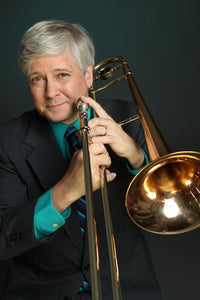 Scott Whitfield - Trombone
Scott Whitfield Model
Inner Diameter: .980"
Outer Diameter: 1.510"
Cup: Medium Bowl
Bore: .250"
Great for lead trombone players!
"My signature model Warburton mouthpiece is the perfect balance of openness and focus. It gives me the consistent response I desire, along with maximum comfort."

- Scott Whitfield

Scott Whitfield is internationally recognized for his work with many contemporary big bands, including those of Toshiko Akiyoshi, Johnny Mandel, Clare Fischer, Bill Holman, Bob Florence, and his own Scott Whitfield Jazz Orchestras (East and West). Whitfield's discography includes 10 recordings as leader and more than 50 recordings with other artists. In addition to his own recordings, his compositions and arrangements have been performed and recorded by such artists as Diva, Maurice Hines, The Pied Pipers, Bill Allred's Classic Jazz Band, and Pete Petersen's 23-strong Collection Jazz Orchestra.

A clinician and guest artist for Getzen trombones, Whitfield has appeared throughout the world, from Australia to Zurich, sharing his expertise on trombone technique, improvisation, composition, arranging, and jazz history. He was featured as guest soloist with the United States Army Blues Jazz Ensemble at the 2007 Eastern Trombone Workshop. His transcription book "The J.J. Johnson Collection" (published by Hal Leonard) has inspired not only trombonists, but also jazz improvisers on many instruments, young and old.

Upon settling in New York in 1993, Whitfield became a member of the Nat Adderley Sextet, which also included Jimmy Cobb, Walter Booker, Vincent Herring and Rob Bargad. The group's engagements at Sweet Basil led to fruitful associations with Nnenna Freelon, Frank Wess, Lionel Hampton, Wayne Andre, and many others. Whitfield has also performed in many Broadway show orchestras, and backed the likes of Robert Goulet, Rita Moreno, Marilyn McCoo, Vic Damone, Jack Jones, and Frank Sinatra, Jr. More recently, he was part of the orchestra at the Hollywood Bowl for a special seventieth birthday tribute to Nancy Wilson, which also featured Nnenna Freelon, Patti Austin, James Ingram, Tom Scott, Terence Blanchard, Natalie Cole, and a host of others.

Whitfield served on the jazz faculty at Rutgers University from 1998 to 2002, teaching trombone, composition and arranging, and improvisation, while also coordinating the school's combo program. During this period, one of his composition students placed third in a worldwide field of contestants in the Thad Jones International Jazz Composition Competition.

Although Scott Whitfield makes his home in Los Angeles, he commutes to San Jose State University, where he is part of the jazz faculty. His playing, writing, and singing have been compared to that of some of his biggest influences, including Carl Fontana, Frank Rosolino, Thad Jones, Sammy Nestico, Mel Torme, and Jack Jones.