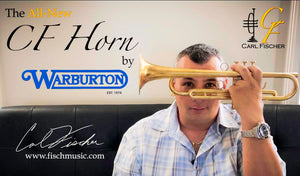 CF Horn - Carl Fischer Signature Artist Trumpet
The CF Horn is the result of decades of research and months of cooperation between Carl Fischer and Terry Warburton. This medium bore (.453") trumpet features a modified medium-style leadpipe and a lightweight, 5 1/4 inch, yellow brass bell with a large flare.. The revolutionary Warburton slot receiver paired with an ovate tuning slide gives the horn a more open feel than most smaller bore horns, allowing the player to have something to blow against without feeling like the horn is backing up.

These carefully designed reflection points paired with a lightweight ferrule, the over-sized lightweight bell, and the absence of a waterkey on the third-valve slide create the big sound, response, and feedback that is desired by high-intensity players like Carl.

The CF Horns also feature a secondary set of serial numbers to reflect their uniqueness as an instrument. Each horn will be play-tested by Carl to ensure that serial number 001 plays the same as serial number 100.