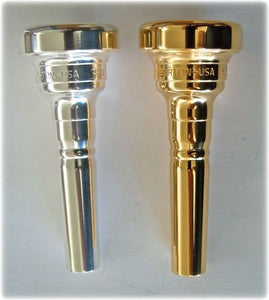 Flugelhorn Mouthpieces
We offer Three Standard Models:

FLM - Medium funnel shape with a #20 bore size. This model has a lighter sound and is preferred by players who need to play in the upper register.
FL - Standard deep funnel shape with #16 bore size. This has been by far our most popular model over the years.
FLX - Extra deep funnel shape with a #14 bore size. This model is capable of producing a most beautiful classic Flugelhorn sound for orchestral and other large ensemble work.
Wide Rim Option (W) - Any of the Standard Trumpet, Cornet, or Flugelhorn tops can be ordered with the W rim option which provides an additional 0.020 inch (twenty-thousandths of an inch) of outside diameter for players accustomed to slightly wider/fatter rims. Note that the W option is not available for Signature models.
The inside rim diameters and rim shapes are identical to the trumpet models 1 through 10.
The following shanks are available:
Standard Morse - American taper to fit Warburton, Adams, Yamaha, Getzen, Benge, etc.
"Bach" - Small morse taper to fit Bach Flugelhorns, Kanstul 1525, & Leblanc Sandoval
"French" taper, which fits the Couesnon and French Besson Flugels
"German" - Large Morse Taper to fit German Flugels
"Vintage One" - Wider shank dimension for Conn Vintage One Flugel

Warburton Flugelhorn mouthpieces are 1-piece models because each cup-depth has a corresponding bore size to match.